Last weekend I went away to Krakow in Poland from Friday night until Sunday with lots of people I used to work with at West Nottinghamshire College. Just about everyone who went away to Romania made it to this gathering too, plus some others that didn't make it last time, so it was great!
We stayed in a hotel called Hotel Campanile which was on Ulica Tomasza. We arrived at the hotel at about 3:30 in the morning and a few of us decided to go straight out into the town rather than go to sleep. We went down the street to a little place called Cafe Philo which is a lovely little bar. While we were in there we had a few drinks and discovered the joys of Okocim. Lovely Polish beer, which we later learned is pretty damn strong.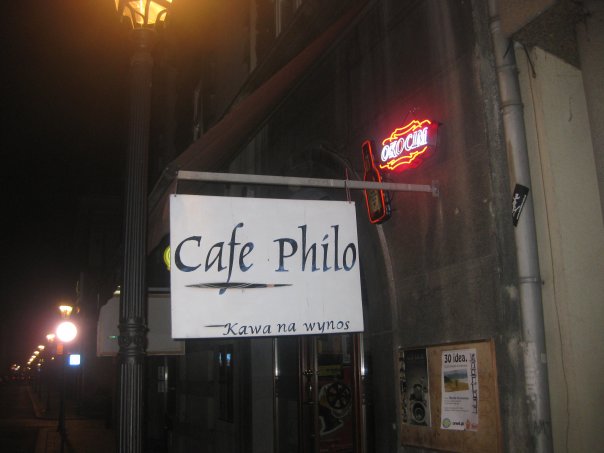 After a little while a guy from behind the bar came over to speak to us. He brought some incense sticks with him and passed them out to a few of us. Then he had a change of heart and took them all off us to give them all to Phil Beard. Phil was naturally quite grateful for this honour. 😀
We had a few more drinks and then I spotted a Polish book with my name in the title. I couldn't read it, so I put it back on the bookcase and went to get more Okocim from the bar. While I was at the bar the guy who'd spoken to us earlier gave me a small square of bubble wrap. I didn't really know what for, so I thanked him and took it back with the drinks. There I found that he'd given everyone some. I think the fact that we'd all been deprived of sleep and provided with so much alcohol we decided it'd be a great idea to pull stupid faces with the bubble wrap and have our pictures taken.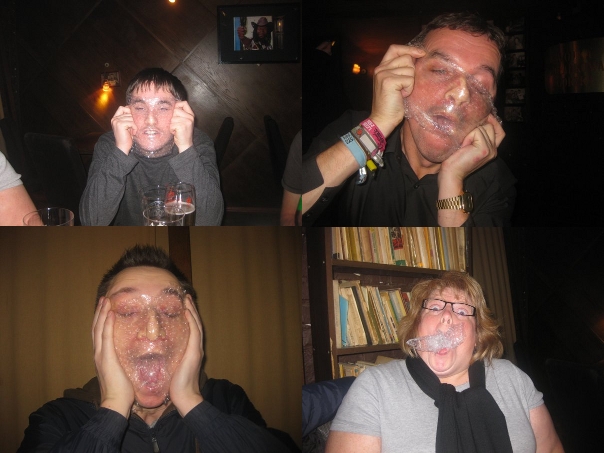 We originally planned to stay in the bar until it got light, but by the time 6:30 arrived we abandoned that plan and just walked back to the hotel to get some sleep.
10:20 arrived very quickly and we had to get up to look around Krakow. Some people had already wandered off in little groups because they had things to do in mind. A few of us hung back to have a bit more of a relaxing day. The main square we hung out in was really nice. There was a Christmas market selling the usual bits and bobs. Nothing you really need, but novelties that you buy anyway. We discovered the joys of "bread bangles" at the little vendors on the square, and then wandered off to the castle.
From the castle you can see quite a lot of Krakow. It was nice to look down at the river flowing by with the swans landing on it. We stood there for quite a few minutes just taking it all in before we moved on.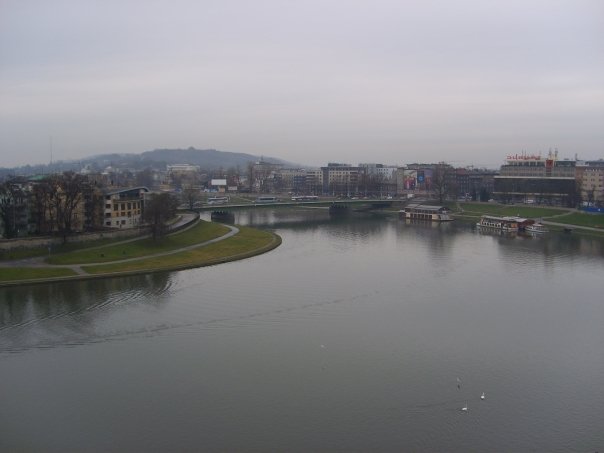 After the castle we headed into the Jewish quarter in search of some more nice architecture, and something good to eat. After Lizz got distracted in a little trinket shop (there was a cat on the sign so she couldn't resist) we found Starka Restaurant and decided it looked nice. We took our seats and ordered some drinks. I decided a nice hot coffee would work wonders, so I ordered a Polish coffee. This was advertised as containing vodka and Kahlua, so I couldn't resist. I was in for a bit of a surprise. When my drink finally arrived (10 minutes after everyone else's) it was freezing cold, in a Martini glass, with a straw in it. I don't think I could have looked any more gay if I'd been wearing a vest and leather trousers.
Once the drinks had arrived we all ordered food. I decided that the pork knuckle and pork neck weren't particularly appetising, so I decided to have rabbit for the first time. Once the food arrived my silly drink was completely forgotten. Rabbit wrapped in bacon with honey glazed carrots, and other tasty vegetables is one of the most outstanding meals I have ever eaten.
We headed back to the main part of town after a brief visit to a pharmacy for Lizz to get some painkillers. We met back up with Gordon in Cafe Philo after witnessing a little protest complete with music march through the city centre. A few of us hung out there and others nipped back to the hotel to sort things out. Claire asked the hotel to book us in for a meal at a nice Polish/Italian restaurant in the evening.
When we went there they showed us to our very own little room with a huge table in it. It seemed really cool, but a couple of people weren't particularly bothered, so after a bit of discussing we all left the restaurant. A couple of people decided to get food from the Christmas market instead, so while they were doing that Gordon, Sarah, and I decided we fancied grabbing a kebab from a place Gordon had discovered earlier in the day. I'm glad I went with it, as it was really nice. It was very spicy though, and I don't normally eat particularly spicy foods.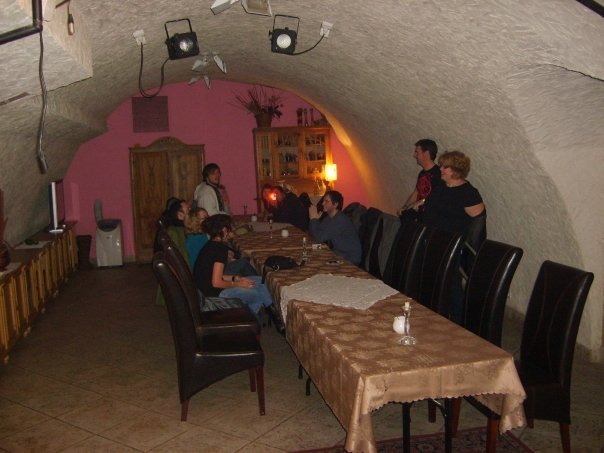 After the kebab we went looking for a bar to hang out in. We went into a little bar and decided to have Desperado's (beer flavoured with tequila) based on being reliably informed that they're nice. They are nice. 😀
We moved on to this fairly big Irish bar and had a few more beers in there. I decided to sing along to Pearl Jam – Alive, much to the amusement of Gordon and Sarah. 🙂 I also stole a flower from the vase in front of me and wore it behind my ear for the next couple of hours. We also got in a conversation with a man in a kilt after I applauded him for wearing it when he walked in. 🙂
As it got later we decided we should head back to Cafe Philo for the rest of the night. When we got there basically everyone else on the trip was there. We all hung out having many drinks and laughs until the early hours of the morning. By the time the last of us left it was down to Jo, Claire (#2 in my book), Vlad, and me. It was somewhere around 3:30 or 4:30 in the morning, but I don't really remember which any more.
We all got up pretty early on Sunday morning to get some breakfast and get ready to check out of the hotel. The plan for the day consisted of a walk to the train station so we could spend 2 hours on the train so we could visit Auschwitz. After a fairly lengthy walk from the train station we arrived at the main entrance to Auschwitz and checked our bags in so we didn't have to drag them around the concentration camp.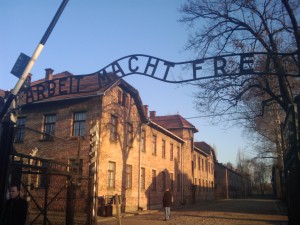 Somehow I ended up by myself, so I just wandered around looking at the buildings for a little while. After looking at a couple of the displays in the buildings I decided I'd rather soak up the atmosphere from outside. It's a very weird thing to be somewhere like that. Trying to imagine the things that had happened right where I was standing was difficult. It's just so hard to comprehend such a huge event. Then to consider you're standing right there, in the very spot. Most unusual.
I decided to grab some food and wait for everyone else to come back to the main entrance. When a few of us were back it was suggested that we should just get a taxi to the airport and save a lot of messing around with buses and trains. It was agreed, so we left for the airport straight from Auschwitz. Some people decided to wait a bit longer, so they arrived in dribs and drabs at the airport. While we were eating some food we spotted that our flight was listed as delayed. I'd never had a flight delayed before, so I wasn't too pleased that I was about to experience it.
After checking in and going through security we sat down in the departures lounge waiting to find out more information. At first they said it would be an hour late, but it ended up being 2 hours late. I really regretted arriving so early by the end of that wait.
The flight home didn't take too long, and on landing back in the UK I couldn't believe that the whole thing was over with so quickly.