I'm writing this post on my phone cruising at 38000ft (~12km) on a late EasyJet flight from Munich to London.
Cheryl and I just spent 10 days visiting Simon (ps) at his apartment there.
It snowed for the first week we were there, but cleared up a bit towards the end of our stay.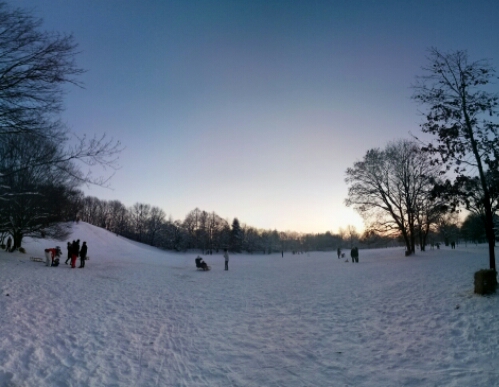 We visited museums, ate and drank Bavarian things, went to a variety performance conducted in German, went bouldering, celebrated New Year, and even went sledging in the Alps.
I've never done any winter sports outside of ice skating, but I really wanted to go up the mountain.
It was a very fun experience. You go surprisingly fast and have fairly rudimentary control over your direction of travel.
On my second time down the mountain I was feeling a bit more daring since I hadn't fallen off the first time.
I went around some corners on one sledge rail, barely stopped before the edge of the trail, walked up hills to give myself longer stretches at higher speeds, landed knee deep in snow beside the trail, and other such exhilarating things.
After a while I got to a really fast bit that I remembered from the first run. Rather than brake I put my feet on the rails and ducked down like I see bobsleigh teams do (mostly in Cool Runnings).
I went really fast, and then began losing control. The sledge went over onto one rail and then tipped me onto the floor, still going really fast.
I skidded along beside the sledge for a few seconds and ended up on my back, feet further up the hill than my head with my arm resting on the sledge. No pain, no worries.
I was smiling so much because it didn't hurt or anything. It was just completely different from my normal life.
I just stayed on the floor looking up at the sky. There was a thin layer of wispy white clouds on the blue sky background. I gradually stopped breathing so hard and just listened. I couldn't hear a single sound apart from the wind.
I stayed like that for a minute until I heard a plane. I spotted it flying overhead, the only other sign of humans.
Simon caught up a couple of minutes later and he was laughing at me on the floor before he checked if I was ok. 🙂
It was an incredible experience that I hope I never forget.